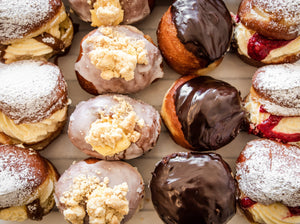 Need to feed a group? We have our discounted 10 pack or 20 pack of no added gluten only mix flavour donuts. 
You will get a mixed number of each flavour:
Cinnamon sugar
Raspberry cream
Salted caramel cream
Vanilla glaze
Boston cream
No changes to flavours. 
These donuts do contain SOY. 

Allergen warning: we take all the pre-cautions to make sure there is no cross-contamination in our allergy friendly products. We use clean and separate cooking equipment and utensils. We have a separate deep fryer for allergy friendly donuts. However we do handle gluten-containing products in the kitchen.