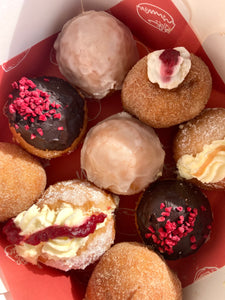 How cute are these allergy friendly mini donuts? We have a range of no added gluten (NAG) and vegan options. Perfect as a gift or catering! We have made these for people for a range of reasons - weddings, baby showers, work function catering, Christmas parties, engagement parties, Mother's Day, Valentine's Day and birthdays. Choose between a 6 pack, 9 pack, 12 pack, 15 pack or 18 pack. 
Choose up to 3 flavours: 
Boston Cream (NAG only)
Raspberry and Cream (NAG only)
Salted Caramel and Cream (NAG only)
Chocolate Dipped with Freeze-dried Raspberries (NAG&V)
Raspberry and coconut custard (NAG&V)
Raspberry Jam (NAG&V)
Cinnamon Sugar (NAG&V)
Vanilla Glaze (NAG&V)
If you are wanting larger orders, please contact us.