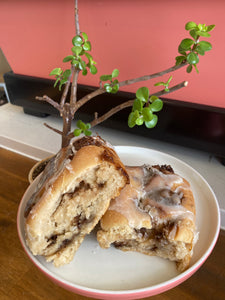 You asked and we delivered....presenting no added gluten and vegan cinnamon buns! 
Soft, fluffy bun with cinnamon almond sugar baked inside.
Note: contains almonds 
 Allergen warning: we take all the pre-cautions to make sure there is no cross-contamination in our allergy friendly products. We use clean and separate cooking equipment and utensils. We have a separate deep fryer for allergy friendly donuts. However we do handle gluten-containing products in the kitchen.