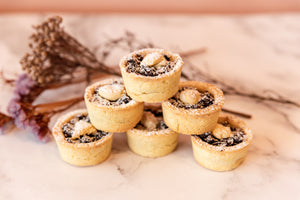 Tis' the season! Christmas Mince Tarts are back and we have our no added gluten version! Our mince tarts are filled with sultanas, raisins, fruit peel, chocolate (the best part) and soaked in spiced rum. Baked into a handmade buttery pastry, it's the perfect balance of sweet, spicy and boozy!
Contains dairy and alcohol. 
Allergen warning: we take all the pre-cautions to make sure there is no cross contamination in our no gluten and vegan products. We use clean and separate cooking equipment and utensils. However we do handle gluten containing products in the same kitchen.